Whether it's on Black Star's album or in the music video for Cartoon Network's Dexter's Laboratory show, you've seen or heard Wordsworth. Earning a reputable underground reputation with battles and freestyles, recording with the likes of Prince Paul and Q-Tip, and really getting his name out on MTV's defunct Lyricist Lounge show, Words is ready to show nonbelievers that he's more than a "TV rapper." Wordsworth talks to RapReviews.com about life after the Lyricist Lounge, his new album, and what hip-hop means to him.
---
WK3: A lot of people remember you from the Lyricist Lounge show on MTV, and that was it. So what all have you been up to since the show was taken off?
Wordsworth: Since the show, I kept doing TV things, I stepped into doing that. I did an HBO show, a pilot with Rosie Perez. I also did the Dexter's Laboratory hip-hop CD with Prince Paul, we did a song for that and an animated, cartoon video. I kept doing things of that nature to hone my skills on that side of the game, and also to perfect my craft of rhyming, and doing songs. Just becoming a better songwriter for the time being. I also dropped singles—I put out "On Your Feet," that's the first single I put out on my label, WordWide Communications. That did real well, it definitely got a lot of buzz for me, Da Beatminerz did that for me. And the B-side "That Way," got people to be like "OK, he's able to really talk about something that's heartfelt." I also did another song that got a lot of rave reviews, which was "Not Me," produced by J-Zone. The B-side was "Wildlife," produced by Sebb, so that also helped get away the sophomore jinx thing, like "can he do it again?" That got people to feel me more, on the "Wildlife" record, because I talked about some personal things. (Listeners) were like "okay, this guy's letting me know more about him, rather than just how ill he is." Also last year, I was working on another pilot show with the RZA and Claude Brooks, I was part of the production team on that. I've just been trying to write, and some more TV shows things are jumping off on the air, but mainly focusing on the music. A lot of people thought that since I was on TV that I wasn't a real rapper, and a lot of people that knew me on TV, when they seen me at shows, they would almost be arguing—you'd see a dude, and he's like "yo, I thought you were doing sketches?" And then you see another dude, like "see, he don't even know that you really rhyme." So those are the things I've been doing to solidify my spots in different areas.
WK3: How'd you hook up with Halftooth?
Wordsworth: I hooked up with them in the 7Heads office. 7Heads had me going out on the road with J-Live for a minute, and actually just going to the office and kicking it with Lamont, which is my manager now that used to work there. One day I was sitting in there, and I was like "yo, we need to get this deal jumpin," because I had a lot of music done. I'm like "Yo, let's put the single out, and when people are feeling the single I've got more music done, I know what I'm doing." I see (Halftooth Records president) David Schrager come into the office, he was up there coming to correct a misspelling on (Halftooth artist) Oddisee's name. I'm like, "You got a label?" He's like "yeah." I'm like "I'm Wordsworth, I've got some music." But in a week or two, I played him the music, and we were in negotiations.
WK3: A lot of people are wondering, what took you so long to have a solo album?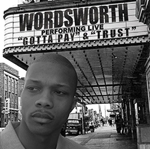 "I had to actually prove myself that I wasn't only a battle dude, but that I'm actually a well-rounded artist."
Wordsworth: Man, I'm happy it took long. Coming from the Lyricist Lounge background, and coming up in that whole realm of being in the underground, and the battle format as far as venues and showcases and people that I'm around, it gave me time to hone my songwriting skills. A lot of people at that time in the game, a lot of underground MC's had this stigma of just being a battle rapper, and that they can't make songs. That was something against me and a lot of other people, but I always knew that I could make songs. So I wasn't really concerned as far as) trying to prove it, so I took some time off to make those songs that actually prove it. And that's actually what ended a lot of careers of battle rappers right now. So that's really why it took so long—I had to actually prove myself that I wasn't only a battle dude, but that I'm actually a well-rounded artist.
WK3: Like you had said, you had a bunch of hot singles before this. You had "Not Me," "On Your Feet," "Bosoms," and "Apartments." Will these be on the new album?
Wordsworth: Nah, only thing that's gonna be on there is "On Your Feet" and "That Way." Everything else is 18 brand new street bangers. All those were just to get you ready for what I could do. Those just let you know that I ain't go nowhere, I'm here with y'all, I'm making more joints. When I make a record, I want to make sure that it's good, I don't want to just be putting out a record that'll be on the shelves. I want to put out an record that says "I know this is dope. It's Wordsworth, he knows the music, and you can hear how much he loves the music."
WK3: Tell me about the album, Mirror Music.
Wordsworth: I called it Mirror Music because the album is a reflection of me, and then I feel that we all reflect each other, it's the incidents in our lives. There's a lot of narration going on, there's joints with me talking about my life. Like the song "Trust," and the song "Be A Man." "Be A Man" is about how you feel like everything's all good, and you think you don't need to depend on people, and you step out in the world and see how hard it is trying to come up and be on your own. It's really about reflecting life's instances that everybody goes through. My thing is, if you didn't go through it, somebody you know went through it. The person in the room with you, if they ain't go through it, they know somebody that's going through it. There's no way that you're not going to be able to relate to anything on it. That's why I called it Mirror Music, because when you listen to it, it's basically like an audio mirror.
WK3: Who all do you have making beats and guest appearing?
Wordsworth: On the beats, I've got Ayatollah, Beatminerz, Oddisee did the lead single, Dox 1 is also on the lead single, Curt Gowdy, Frequency is an ill up and coming dude. I've also got Sebb, A. Vee and 3D for The Courts Productions. And I've got three other people—my man Dave Dar, my man Belief, who did a lot of Def Jux stuff, gave me this ill track called "Fast Lane," out of control. And I've got my man R. Thentic. I've got the future of producers. Everybody's ill that's on the album, and I can see them all being huge successes. (Rapping) I've got Punchline, my cousin Justine Time, Masta Ace, my labelmates Oddisee and Kenn Starr, and I've got a girl named Adanita Ross that sings, and another girl that sings named Meleni. I kept it real minimum, the only rappers are Oddisee, Kenn Starr, Punch, Masta Ace and Justine Time, that's it. There's only three cuts with (other) people rhyming, there's 15 other joints with just me spittin' rhymes.
WK3: You made an EP with your partner Punchline a few years ago. So what are some differences that you saw between recording a solo album, and recording an album with another person?
Wordsworth: During the EP, we only did six songs—the songs that's on there, that's all we did. There was no choosing, there was no variety. Plus, all we talked about was how ill we were, and girls. And that was a good reason that we both said, "Let's go out and do our own thing." Because I don't think the EP was able to show both sides of the story. This whole album, I don't say nothing about trying to speak with girls, on some women-bashing or nothing like that. I don't even curse on the whole album. So it's just more dealing with life, I just think that's what's going to prepare my career. It makes me more important as a person in this movement of music, and life in general.
WK3: While you were in college (at Suny Old Westbury, in Long Island), you did all of your assignments in rhyme. Explain that to me.
Wordsworth: I got bored, from just writing from a book and giving the teacher a paper to prove that I read the book. After a while, staying in school, we do tons of those papers. So one day in class, I was in this politics class, and the teacher was having us write a journal, and I wrote my journal in rhyme and got an "A." So once I got the "A," I got hype, like "shoot, I'll do everything in rhyme." So I went into another class, I had African History, I wrote about female circumcision in rhyme. Next class, I did a Langston Hughes paper in rhyme. And as long as I had the commas and everything right, they couldn't say nothing. I followed all the rules as far as putting the structure together, I had all the information, all the books, the only difference is that my words rhymed, (the teachers) couldn't complain. So after I did that a couple of times and I came back the following semester, I did another class. It was a literature class, with Shakespeare stuff, I would write in rhyme when I answered a question about it. It spread like wildfire that I was doing it, so when I handed in a paper, I guess the professors were speaking about me amongst themselves. And then from that, they would have poetry vs. rap conferences in big auditoriums, and professors would bring their classes to see a panel of us talking, and I would rhyme for them. That was kind of wild, because I was just rhyming. I'm not really working; they were making it mad easy for me, because I was just writing rap songs.
WK3: You're in a new independent film, tell me about that.
Wordsworth: The film is called Freestyle: The Art of Rhyme, it's by Kevin Fitzgerald. It's a dope movie, because it shows a lot of different styles, and it shows the progression of freestyle and how spiritual it is as an art form, and just shows the drive to rhyme everything off the top of your head, or just say something dope in general. It also shows that hip-hop isn't violent, it's not how people perceive it as when they just see a whole bunch of us on the corner rhyming together. That's what's so powerful about the movie. A lot of people I've seen can actually see that freestyling breaks down watching preachers in church, just getting into a rhythm and hearing their voice and the way they preach. And there are showcases of legendary battles, like Super Nat and Juice, Craig J and Super Nat. It shows Tupac and Biggie rhyming together at a table chilling, it's some of the illest footage I've ever seen. Tupac's spitting, like "I got this orange juice in my hand," just killing it, and Biggie rhymes right after. The footage in there is amazing, so for me to be in that movie, I feel honored to be in a movie explaining that part of the art.
WK3: Would you consider other movies?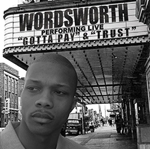 "I definitely want to do more movies, I want to do everything. I don't have a limit to what I'm trying to do…."
Wordsworth: I definitely want to do more movies, I want to do everything. I don't have a limit to what I'm trying to do, I actually want to do something based on my own life. I actually wrote a treatment for it, we're actually working on a screenplay right now. But the whole thing was, I have to fulfill this music, because music is what got me in the doors to meet these movie people. The people who support me for the music are like, "where's the album?" or "yo, I want to see you on some of your own stuff, not just on everybody else's record." So I have to fulfill some obligations that I feel the fans deserve.
WK3: I read that you're involved with this organization called Slam Bush. Tell me about that.
Wordsworth: I went down there, and I had got with my boy Louis, whom I met through Biko, from Contrabandit.com. They were telling me they were doing this campaign called Slam Bush, and they wanted me to be rapping against a debate. I went down there, they gave me a line he said, and I basically wrote a rhyme that talked about all the foulness he did in debate. When you watch it, it'll actually look like I'm on TV debating. That's how I got (to become) a part of that. I also wanted to be part of it, because I'm not the political person, but there are things that's happening. And I feel like there's a lot of people like me—just out chilling, knowing foul things are going on, and they think that they don't have power to do something. (And) People listen to me to an extent that I feel like if I can say something to help change things, then I might as well use my power. That's what's really got me involved with it; I try to follow politics but I'm not really savvy like that with it, but I definitely see some things that I don't agree with going on.
WK3: You're doing some type of judging too right?
Wordsworth: I think it's gonna be poets and stuff like that, just speaking their piece on about Bush and about how they feel about what's going on. I think that's the whole thing that's going to go on, just judging people's poetic expression of how they feel about what's going on in society.
WK3: I've also heard that you were shooting a commercial for ESPN?
Wordsworth: I'm doing a clothing ad with them. They're doing ESPN clothes now, so it's basically something to promote the clothes. I don't want to let it out the bag…but yeah, they're doing the clothing line. It's going to be cool, cuz they don't do serious commercials, so you can expect a little humor to it. It's a quick glimpse of me, and a couple of other people in it.
WK3: So are you rapping in it or anything?
Wordsworth: No I'm not rapping in it, I think I say like one or two lines. It's like six people, and we've each got one line, to the point that I think I'm going to probably get my line tomorrow. It's just cool, ESPN, I'm just doing different things.
WK3: You did a track with Talib Kweli and Musiq right?
Wordsworth: It's on the Beautiful Struggle Mixtape Pt. 2. It was kind of crazy…I just came through the studio, and Kweli was like, "I want you to get on my mixtape." So I was like "cool." Musiq was there. They played the track, and Musiq made up the hook. I wrote my verse right there, and the rest is history, it's real ill working with Musiq and Kweli. That was my first time working with Musiq; that was real dope, because I was a fan of his music anyway. It was ironic for me just to pop up in the studio and he was there. That was real dope.
WK3: Here are some more general questions. What does hip-hop mean to you?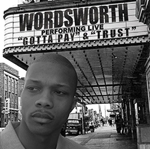 "You can learn from it, you can teach hip-hop. It's no boundaries to what hip-hop is."
Wordsworth: It's a culture of course, but it's a lot of freedom in hip-hop. As far as dressing, slang is made up all the time, people from different regions getting together. It also means unity—music, dressing, style, fashion, it's helping bring people from urban areas together and showcase their talent. It also gives you inspiration to compete. When I was young, to rhyme, all I had to do was bang on an elevator wall, or bang on a car horn, and we was doing hip-hop. I didn't have a MPC or nothing like that. And you know what? Any kid and his boy could start beat-boxin, or bang on a table yourself and rhyme. It's about being able to express yourself in so many ways, and having fun. You can learn from it, you can teach hip-hop. It's no boundaries to what hip-hop is. So to me, hip-hop is the best expression ever.
WK3: What do you think of the rap game right now?
Wordsworth: Right now, the rap game is actually letting people get a little love, I might be able to sneak in there and get a huge situation for the kid (laughing). Definitely, Kanye West opened up a lot of doors, you can't front on that. (Talib) Kweli's been making great records to prove he's a dope lyricist time after time again. The Slum Village record "Selfish" is actually a dope record that's getting played now, people that have been doing it for a minute and that are dope are actually getting spins. I was driving today and I heard the Roots' record, and I'm like "OK, that's what's up!" There's actually a little bit of diversity now. A little while ago, it was like, "all those dudes that's not rhyming about what we're rhyming about, they aren't affiliated with my crew." Or, "if they don't make a record like this, then we not playing it." Now it's like "you know what? These dudes have been doin' it for a minute, I wanna rhyme on there." It ain't about a specific type of labeling, it's about rhyming with somebody that can rhyme, making dope music. That's where I think it's evolving to, making dope music.
WK3: What are you listening to right now?
Wordsworth: I'm listening to The Roots' "The Tipping Point," I like Planet Ape's joint, Mr. Complex. I like Lloyd Banks too, I like the Jadakiss album. Those are the joints I've been listening to recently. You've gotta listen to anything. I think that's what held a lot of dudes (up) coming back, so much time hating on dudes on the radio and doing things, and you wasn't trying to hone your skills. So me, I listen to anybody. I'd rather try to make dope music than be starving and just out there doing the wrong thing. You gotta try to do the right thing and get up out of the struggle. Oh, I listen to dead prez.
WK3: How do you think the Internet affects hip-hop?
Wordsworth: The Internet helps and hurts, everything has its pros and cons though. The Internet for one, if you hear it on the Internet and download it, and you're like "yo, check this song out, when the album comes out it's gonna be crazy"—that's promotion in a way. On the other hand, I recall times I downloaded an album off the net—I'm not gon buy it brotha (laughs). I keep it real. I burn something on there, and I'm not even going to buy it. I wound up buying it later, but that's just me. A lot of people aren't gonna buy it if they got it burned. That's the downfall of it. But I got it burned thinking, "I'm going to get this burned copy, but I'm definitely going to support it." And that's the real truth of it, some people don't have money to go get it. People have to do what they have to do, but that's why you try to make great music so that your shows and other opportunities open for opportunities to be hearing the music. There's a lot of people that hear radio, and never bought an album from you, but if you do a show, they know that record. That energy is needed.
WK3: Just about done. I say a name, you tell me what comes to mind.
Wordsworth: Cool.
WK3: Kanye West.
Wordsworth: Innovative, groundbreaking. He's helping merge things together right about now.
WK3: New York Yankees.
Wordsworth: Man they win it every year, winners.
WK3: George Bush.
Wordsworth: Just wildin' out, out of control.
WK3: Kobe Bryant.
Wordsworth: Talented brother in trouble.
WK3: Foxy or Kim?
Wordsworth: Kind of serious question right there. They be having their times, both of them be on and off. I like both of them.
WK3: Jay-Z or Nas?
Wordsworth: Wow, he's coming with real questions for the kid…man, I like both of them.
WK3: Reebok or Nike?
Wordsworth: Nike.
WK3: You eat Ramen noodles?
Wordsworth: Oh yeah, I be killin' those.
WK3: Chicken or curry.
Wordsworth: Chicken.
WK3: That's about it. Is there anything else you want to say to the readers?
Wordsworth: Just get the album, September 14, Mirror Music. Check www.halftooth.com, my web site is www.wordwidecommunications.com. There would be no me without y'all, and thank you for having me.