"Curtain Call 2" is the sequel to 2005's "Curtain Call: The Hits" in name, but delivers a very different selection of Eminem's music from the latter part of his career (2009-2022). Worryingly, and perhaps most tellingly, with double the timeframe of the first compilation (1999-2005), it's still an inferior selection of Eminem hits. Without stating the blinking obvious, Eminem has changed a lot since 2005. Compared to the first "Curtain Call", what's immediately apparent is just how much Eminem has shifted away from traditional songwriting toward lyrical acrobatics. A signature of his first run is an ability to make you react to a powerful story one moment, and laugh at his humor the next, all while marveling at the way he manipulated words. Simply put, the music here isn't as good, nor are the rhymes as memorable. It's actually difficult to see the style of songs on "Curtain Call 2" being successful if it wasn't the most successful rapper in history performing them. And that's where the division lies amongst hip-hop heads – the wit and precise flow that made us fans has been replaced by robotic accents and rapid-fire word spaghetti. Recent Eminem albums have displayed an obsession with making the most impressive raps, yet few of these "hits" register in the memory like his earlier material.
At nearly three hours in length, there's a lot of Eminem on offer. I'm not going to go into every song here, because we have covered every Eminem album, but this is what has been included:
"Relapse" (2009)

"3 a.m.", "Beautiful", "Crack a Bottle"

"Recovery" (2010)

"Cinderella Man", "Love the Way You Lie", "No Love", "Not Afraid", "Space Bound", "Won't Back Down", "You're Never Over"

"The Marshall Mathers LP 2" (2013)

"Berzerk", "Headlights", "Rap God", "Survival", "The Monster"

"Revival" (2017)

"Nowhere Fast", "River", "Walk on Water"

"Kamikaze" (2018)

"Fall", "Lucky You", "Venom"

"Music to be Murdered By" (2020)

"Darkness", "Farewell", "Godzilla"

"Music to be Murdered By – Side B" (2021)
"Fast Lane" and "Lighters" by Bad Meets Evil, "Kings Never Die" and "Phenomenal" from the Southpaw OST, "Best Friend" by Yelawolf
Three new songs: "From the D 2 the LBC", "Is This Love ('09)" and "The King and I"
There are a few popular tracks that have been ignored: "I Need a Doctor" which peaked at #4 on Billboard, "Homicide" with Logic (#5), and "The Ringer" (#8). However, the obvious omission is "We Made You" which was essentially his comeback moment in 2009. It was also the last time we saw Marshall Mathers with a sense of humor, and that's something this compilation distinctly lacks given Em can be one of the funniest emcees. Apparently, he isn't a fan of the song these days, but it's more likely because it includes homophobic remarks and mocks Amy Winehouse (it was recorded two years before her death). Still, considering it's the main single from "Relapse" and there are 34 songs here, it's a noticeable gap.
Fan favorites like "Underground" and the hilariously obscene "Insane" were unlikely to make the cut but it's a shame to see underrated songs like "Careful What You Wish For" miss out, as that felt like a classic Eminem record. But there are some interesting inclusions: "Best Friend" with Yelawolf is a guilty pleasure of mine as it's just so damn catchy and hasn't been overplayed like "Love the Way You Lie" or "Lighters" have. "Fast Lane" with Royce Da 5'9" remains an excellent Bad Meets Evil lyrical onslaught that benefits from a Nate Dogg-like hook by Sly Jordan. "Survival" is one of those rock-rap blends that manages to work thanks to it's simple beat and avoids that the whininess that "Crack a Bottle" and "Not Afraid" still suffer from. That's my theory for why Em often recruits pop stars for his hooks as his hit-miss ratio is less reliable in recent years.
Just from the first few tracks, you'll hear Em apologize for both "Relapse" and "Revival", and then admit the latter deserved to go in the trash. Not many rappers openly admit to putting out garbage, but it sounds even more jarring on a Greatest Hits compilation that includes bits of that trash. The thing is, much of this "trash" was incredibly popular. The first "Curtain Call" arrived in time for Christmas 2005 and was radio smash after radio smash. "Curtain Call 2" includes half of the "Recovery" album, his most self-serious attempt at stadium music, and as good as some of that album is (the Lil' Wayne collaboration still sounds brilliant) it dominates proceedings. There's just too much here for it to feel like a curated selection of hits – thirty-five songs simply isn't a Greatest Hits album. If they were all hits, then they would justify their inclusion, but it's simply not the case. It's just a collection of all the singles from Eminem albums.
| | | |
| --- | --- | --- |
| Curtain Call 2 | Billboard 100 (US) | Official Charts (UK) |
| #1 singles | 4 | 3 |
| Top 10 singles | 21 | 14 |
I'm in the UK, where Eminem seemed to completely dominate pop music during the 2000s and doing some research for this review did uncover some fascinating facts. Many of those early Eminem tracks that raised a generation of (largely white, admittedly) teenagers weren't as immediately popular as I had believed. "Stan", widely considered to be the Eminem song (aside from Oscar winner "Lose Yourself") peaked at #51 in the United States. That was #1 for weeks throughout Europe. The same for "Like Toy Soldiers": #34 in the US but #1 across Europe. Memorable singles like "Guilty Conscience" and "The Way I Am" didn't crack the top 50 in the States, but were Top 10 elsewhere. Of course, the American charts are famously tough to crack and include other genres that other countries may not have (ie. country and western) but this does influence the different perceptions of Eminem between the United States and other regions. Check this out: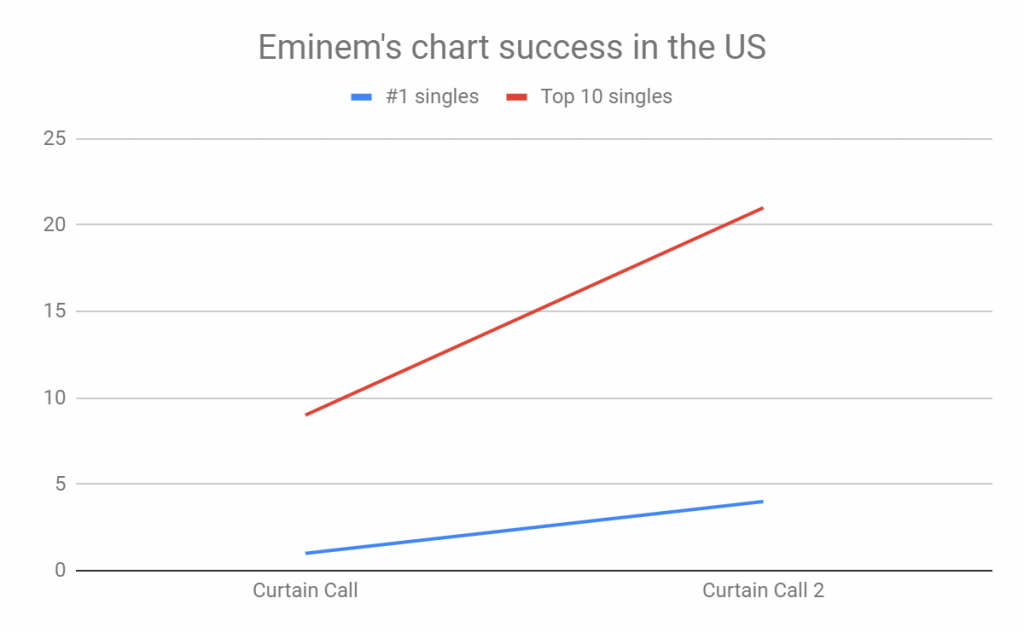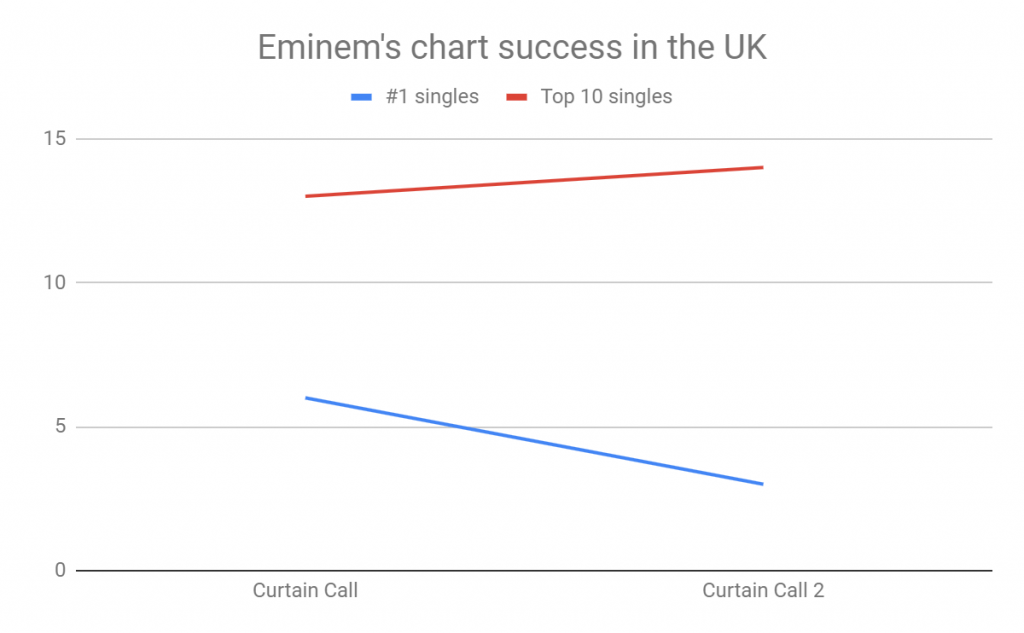 So as successful as Eminem has been throughout his career, his shift in approach has coincided with more success in the pop charts in the United States specifically, with the reverse happening in the UK. While a Brit may question the decision to alter a winning formula, it's increased his grasp on the American music industry and explains why he remains so popular, if not more popular, in 2022.
So what of these three new tracks? "From the D 2 Tha LBC" is a peculiar record with Em joined by Snoop Dogg, with the former rapping about marijuana and the latter speeding up his flow to mimic his partner in rhyme. It's an interesting curio but it's entirely forgettable outside of being impressed Snoop can fire out syllables at a relentless rate. "The King and I" features CeeLo Green and it's a better song with its fair share of cringe-worthy lines amongst some genuinely dope ones, but is particularly noteworthy for how it addresses the correlation between Elvis Presley's success and Eminem's (although he acknowledged this back on "We Made You"):
"Now I'm about to explain to you all the parallels
Between Elvis and me, myself
It seems obvious, one, he's pale as me
Second, we both been hailed as kings
He used to rock the Jail house, and I used to rock The Shelter…
I stole black music, yeah true
Perhaps used it (for what?) As a tool to combat school"
The best of the three new songs is easily "Is This Love ('09)", a satisfying Dr. Dre production with a 50 Cent feature that must have been left off of "Relapse". I'm not sure why this was in the vaults all this time, given it would have been a great inclusion in 2009, just to hear 50 say he's into snuff films!
The fact this is the first Eminem album not to debut at #1 (it reached #6 in the States and ironically, higher in the UK at #3) in its first week is a testament to the fact his fans already have this music, the casual listener is less interested in modern Eminem, and a generation of Eminem's older fans just don't connect with this music like his earlier material. Numbers aren't necessarily important, but do provide context and justification for a Greatest Hits album, let alone two of them. Eminem has a massive global audience and the fact Rihanna, Beyonce, Ed Sheeran, and Pink are on this album proves he has had to adjust that demographic slightly – the first "Curtain Call", aside from Dido on "Stan", just had Dr. Dre and Nate Dogg on it. But it's the strength of his more recent material (or lack of) that ultimately stops this being a record to recommend – the "Eminem sound" the first "Curtain Call" could accurately collate and celebrate (given 100% of it was produced by either Dre or Em) has been pushed aside in favor of party trick flows and quick-win hooks from guests. It still seems to be a successful approach, but it's not as satisfying to revisit.