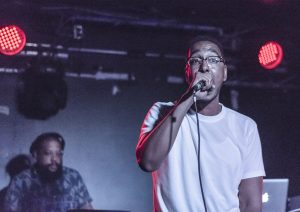 (Editor's note: Here's a classic interview we just added to the archives. Enjoy! Originally published May 11, 2004.)
Sick of the commercial hip-hop that litters the radio and television stations? Before writing off today's acts, peep the music from Kenn Starr and Oddisee. While Oddisee made a name for himself with his work on Jazzy Jeff's The Magnificent LP, Kenn Starr is relatively low radar. However, the two franchise players of the fledgling Halftooth Records (which also signed Wordsworth, of Rawkus and Lyricist Lounge fame) are quickly establishing a name for themselves; they even manage to outshine artists like J-Live and Talib Kweli on the stellar "You Don't Know the Half" debut compilation from the label.
William Ketchum III interviews Kenn Starr and Oddisee on the challenges of producing and rapping, talent coming from Virginia, and the state of hip-hop.
---
WK3: How long have you been rapping, and Oddisee, how long have you been producing?
Kenn Starr: I've been rapping since '93, when I was around ten.
Oddisee: I've been rhyming a bit longer than I've been producing. I've been rhyming since about '97, started making beats in like '98, '99. And I've been into hip-hop for a little while, but I started taking it serious around 98-99.
WK3: How did you get hooked up with Halftooth Records?
O: We all hooked up cause we shared a mutual friend, a coworker of mine told me about some friends of her's that were starting a label, and she relayed the information to them, that someone was rhyming and making music, and she put us in contact with each other.
KS: Oddisee put me on. He had a contract with them, and he put me in a position to submit some material for the You Don't Know the Half compilation. The people liked what they heard, so they offered me a contract.
WK3: Kenn, you're from Virginia. VA's been making a lot of waves lately in music, whether it's producers like Timbaland and the Neptunes, or emcee's like Skillz and Clipse. What's the deal with Virginia nowadays, and how do y'all breed artists like that?
KS: Well, I'm originally from VA, but I've been living in Maryland for a minute. But I can say there's a real strong hip-hop scene in Virginia, and it's a natural breeding ground for talented artists out there.
WK3: How long have you been stationed in Maryland?
KS: I've been here quite some time, at least nine to ten years.
WK3: Oddisee, you made a name for yourself production-wise when you made the beat for "Muzik Lounge" on Jazzy Jeff's The Magnificent LP. How did you get hooked up with Jazzy Jeff, and will you two be collaborating anymore in the future? O: I hooked up with Jeff through a cat in my crew, Kevin Brown, I'm sure you've heard of him. Kevin was working at A Touch of Jazz (Jazzy Jeff's studio) and since we're all part of the same crew, when he got his opportunity he extended it to everybody else. I was actually the one rhyming on "Muzik Lounge" also, so he gave me the opportunity to display both sides of the album, and I'm really grateful to Jeff for that. I don't see us working together anytime soon, but I'm not closed to the idea; I'd love to work with Jeff again.
WK3: A lot of people who both rap and produce only do one really well, and at the other they aren't really good. Oddisee, how do you balance both rapping and producing, even though you've been rapping longer?
O: I completely agree with you. There's a lot of producers out there that rhyme, and a lot of emcees who produce. And you're right, one (talent is usually) significantly better than the other. Hopefully, I'm one of those guys [who can do both equally well], but I can only judge myself, I don't know what anybody else's opinion is. The way I balance it is, the beat helps me become a better writer, and writing helps me produce better. Because when you hear things objectively, they explain themselves to you. When I hear a beat, it tells me that I need to write it like this, or come at it like that. And vice versa for rhyming, one tells me how to do the other. It's all about keeping an open ear; if you concentrate on one more than the other, then you'll hear that. But you've got to be equal at each of 'em, and you need to put a hundred percent into everything that you do.
WK3: On the Halftooth compilation, you guys worked with Wordsworth, J-Live, Little Brother, and even Talib Kweli. Who would you want to work with in the future?
KS: There are so many artists I'd like to reach out to. But as far as [the] immediate future, I would really like to collaborate with Little Brother, there's a female MC out of Jersey by the name of Flo Brown that I'd really love to work with. Those are just a couple of names off top, but basically, anybody that I feel is dope, and is willing to collab, I'd love to work with them.
O: In the future, I want to work with Kardinal [Offishall], I want to work with J-Dilla, I'd like to do some work with Dizzee Rascal, overseas and stuff.
WK3: Who did you look up to in music growing up, and who do you listen to now?
KS: Coming up, I was really into cats like Mos Def, Kweli, Pharaohe Monch, Ras Kass. I came up on a lot of different styles of hip-hop, so there's a lot of different cats that I listen to.
O: I looked up to Tribe [Called Quest], and De La, Native Tongues, Premo, I was into that stuff quite hard. Right now, I'm listening to a lot of stuff besides hip-hop. I just actually started listening to Vanhunt, and I'm listening to some Jazza Nova, Saint Germain. Still listening to Maze and Herbie Hancock, Bobby Humphries, a little bit of everything. I'm not listening to too much hip-hop, because most of the time when I become extremely submerged in my own work, I don't like to listen to a lot of other artists' stuff, because whether you know it or not, it'll subconsciously affect what you're doing. So since I'm a sampler, I don't mind listening to previous recorded music from the '70s and things like that, because that's what I want to affect what I'm doing. But I'm working on my own stuff right now, and I'm working on Kenn's album, so basically [music from] other artists are cut out of the picture.
WK3: What do you think of the hip-hop game right now, in general?
KS: I think it's moving in a positive direction, and I think that the variety of styles of hip-hop, that's present in the mainstream now.
O: I think we're in a good time of hip-hop right now. People's ears are becoming more and more open to different genres of hip-hop, and it's not completely there yet, but hip-hop seems as if is going toward an era where underground and mainstream will merge, and it'll just be good or bad music, everyone will have a fair chance. Hopefully I'll see that in my career, but I feel that that's where it's going right now, where it's all going to be just good or bad music no underground or mainstream. I feel like it's a good time right now.
WK3: That's interesting. Most artists that I interview go on about how hip-hop is dying, and about how terrible it is.
KS: I think it's getting better. I think that comes from people having tunnel vision—for a lack of better terms—and are focused on one particular aspect of hip-hop. They're talking from either an underground or mainstream or standpoint, whereas I'm looking at [how] hip-hop encompasses all styles of that. "Commercial," and "underground," that's all part of hip-hop culture. I think that as a whole, it's moving in a positive direction.
O: *[People] need to stop crying, cause we are hip-hop. Like Mos Def said on Black On Both Sides, hip-hop isn't some giant in the hillside, so when you ask me that question, that's [my answer] is a personal reflection of what I'm going through, and right now, we're doing great in hip-hop, and we think it's gon get better. And the crew that we're running with, the emcees that we're affiliated with, they're doing good as well. And it's unfortunate for cats that's not doing good, and that think hip-hop is going to the burbs, but I think it's going good right now. There's never time to complain.
WK3: What would you say is your goal in the hip-hop game? What do you wish to accomplish with your music?
KS: I just wanna make music that people can relate to and enjoy, today or ten years down the line.
O: For myself, longevity. For the people who are listening to my music, just to give them something that goes along with them in life, something they can relate to. Something that whenever they're going through something, or a particular emotion, I want to be the artist that has that song that defines how you're feeling. That's what I love about music. If it's a sunny day, or if you're thinking about a shorty, or if you're depressed, there's a specific song for every emotion that you go through, that's why makes music so powerful. I just hope to capture some of those moments from people.
WK3: Anything else you want to add for the readers?
KS: Just check for the new projects we've got comin up—Wordsworth's solo album, my solo project, and Oddisee's.
O: Just be on the look out for anything that myself or Low Budget is doing, that's my crew—Kenn Starr, Critically Acclaimed, Kevin Brown and Cy Young, [DJ] Roddy Rod, Kaimbr, Sean Born, Kenwood, DJ Marshall Law, and DJ P&D, be on the look out, keep supporting. Mutual respect for the listeners—I respect the listeners, and I hope they respect me.