Buffalo emcee, Che Noir, recently released a single with Apollo Brown called "'94". In it, she highlights some important elements of a genre, when the artform becomes older than the artists. She was born on the day Nas released "Illmatic" (meaning she's 26-years old), and goes on to state that for her generation, 50 Cent embodied that aura of Biggie and Pac ten years later. It was an interesting point that is usually shot down by older fans, whether it's 80s listeners looking down at the 90s, the 90s looking down at the 2000s, or the 2000s looking down at the 2010s. It's all relative and ultimately, a laughable exercise in proving how old one is.
This got me thinking about what albums were released when I was born, and while nothing dropped on my actual birthday, late 1986 did see the release of Eric B & Rakim's "Eric B Is President" with "My Melody" on the B-side. These tracks are now iconic, and "Paid in Full" is an album that rightfully sits alongside the likes of "Illmatic" as one of the best records in hip hop history. It surprised me that nobody at RapReviews had covered the album given we have reviews dating back to 1996 – it's almost redundant at this point considering everybody that enjoys the art of rap acknowledges Eric B & Rakim's debut as must-have, stone-cold classic. There's no need to scroll down to see what the score is because it writes itself.
If indeed, you're not familiar with Eric B & Rakim's debut LP, lets recap. The fact that "Paid in Full" was recorded in the space of a week and they pretty much used the first-takes from Rakim, highlights how important the raw performance aspect of rap was at the time – akin to the immediacy of theatre actors and the punch-in retakes of Hollywood. Rakim was clearly no joke, and at the mere age of 18 he laced his first single "My Melody", and following his 19th birthday, the rest of "Paid in Full" was crafted. Having grown up playing the saxophone in a musical family (much like his heir to the throne, Nasir Jones, was the son of a saxophonist) his natural ability shone through at an early age, bolstered further by an obsession with the English language.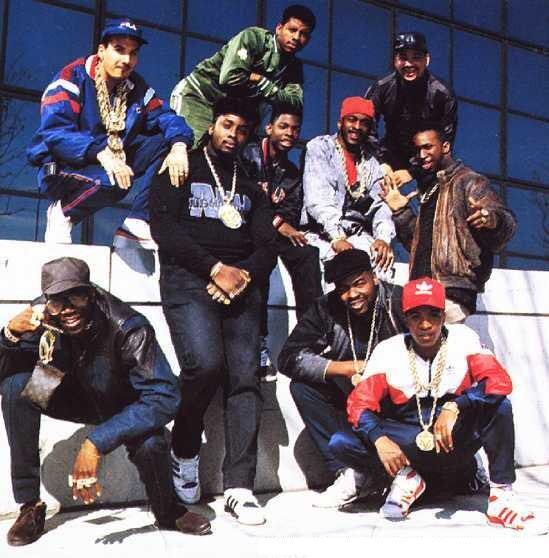 Both Eric B and Rakim were part of the infamous street crew The Supreme Team, which included artists such as Freddie Foxxx and Kool G Rap and feared stick-up kids like Brooklyn's 50 Cent (not to be confused with the Queens emcee who idolized 50, seen above in the red Adidas hat). Much has been made of Eric B's talent as a DJ over the years – he cuts an imposing figure and could be considered an earlier version of Suge Knight, more interested in the business/street side of things. It's been long rumoured and frequently denied that Marley Marl and Large Professor were responsible for much of the great work on the first Eric B & Rakim records.
Some of the scratching on "Eric B Is President" may feel rough-and-ready compared to more recent masters of the turntable, but it doesn't detract from their debut single. Rakim's vocals sound muffled on today's technology but the drum loop and one of the best basslines in history more than makes up for it. For new listeners though, it has aged and highlights Eric B's limited talent on the 1s and 2s. "Eric B Is On The Cut" fares better as an example of a DJ cutting it up.
1987's "Paid in Full" is important, but primarily for the art of rap rather than the direction the industry took. The simplistic, nursery-rhyme style prominent in the mid-80s on records such as "Raising Hell", "Radio" and "Licensed to Ill" all has its roots in hip hop's foundations. The emcee moved the crowd with their energy, their voice and the ability to simply kick a rhyme. Rakim was more calculated and precise with his skillset; instead, writing verses and delivering them in a calm, methodical manner. He is smooth. He has Soul. He is simply, the God MC.

1987 was monumental when you look at the voices it ushered in. Chuck D debuted with Public Enemy's "Yo! Bumrush the Show", KRS-One arrived with Boogie Down Productions' "Criminal Minded" and Ice Cube emerged with "N.W.A. & The Posse". But few are as important to the genre as Rakim's debut LP in 1987, which rewrote what could be done with a pen and a microphone. Until this point, verses had been largely primitive affairs whereby the last word of each line rhymed, much as it has done in centuries of music before. Rhymes were often freestyled or designed to rock a party, and while Rakim's content was nothing revolutionary, his delivery was and ensured his words caught your ear and sunk themselves into your memory. He was never really saying anything substantial outside of boasting about his superiority – but he always backed it up.

The other singles released from "Paid in Full" include "I Ain't No Joke", "I Know You Got Soul", "Move the Crowd" and "Paid in Full" (the song). That means that half the album was out there in DJ setlists throughout 1987 – there aren't many albums where that's the case. "I Ain't No Joke" is one of the best openers to a rap album of the 1980s, a track many of us have rapped along to. Rap was becoming lyrical, but you could still join in, years before hyper-lyrical rap had listeners sat in awe at their complex schemes.
The laconic demeanour Rakim showcases on "I Know You Got Soul" is captivating, particularly the way his second verse is delivered. This may be the first time many heard somebody truly ride a beat:
"Picture a mic, the stage is empty
A beat like this might tempt me
To pose, show my rings and my fat gold chain
Grab the mic like I'm on Soul Train
But I'll wait 'cause I mastered this
Let the others go first so the brothers don't miss
Eric B. break the sticks (you got it)
Rakim will begin when you make the mix
I'll experiment like a scientist
You want to rhyme, you gotta sign my list
'Cause I'm a manifest and bless the mic I hold
You want it next? then you gotta have soul"
Nothing special right? That's where writing about music can sometimes feel redundant, particularly when it comes to dissecting rap from the New School era (1984-1987). Subjective content ultimately doesn't lend itself to analysis – it's why popular social media channels like HipHopByTheNumbers remain novelties rather than informative. Rakim's style feels so effortless as if he's some sort of biological marvel – how is a dude rhyming like this in his teens and why is his cadence that of a street-savvy veteran? Call me mad, but I like the idea of poet Langston Hughes dying in New York City nine months before Rakim was born – a true spiritual successor of the wordsmith for a new generation.
Indeed the rhymes continued with "As the Rhyme Goes On", my personal favourite track on the album. That menacing bassline and barebones kick-and-snare combo are the perfect foil for Rakim as a Beastie Boys line ("Pump It Up Homeboy!") is sprinkled throughout nearly four minutes of straight rhyming.
The sheer array of quotable lines now firmly stomped into rap folklore are almost endless. "It ain't where you're from, it's where you're at". "Make them clap to this". "I'm just an addict, addicted to music". "I wake you up and as you're staring, your face just seems stunned". The Seven Emcees scheme. The building blocks for Eminem's "The Way I Am". It's all here.
"Chinese Arithmetic" and "Move the Crowd" haven't aged quite so well, but the video for the latter is a great visual for how Rakim glides through his verses with all the command of a military figure.
The final single was "Paid in Full", popular upon release in the United States, but blew up in a huge way overseas thanks to British dance duo Coldcut producing the remix. This was one of the first commercially successful examples of a remix adding another dimension to a popular song, which Rakim liked but Eric B didn't.
Classic hip hop is difficult to review decades later because it's not just from another time but from a different era entirely. Singles would release full years before albums, with radio and MTV providing the primary avenues to hear new music before it appeared in stores. Many younger readers may not be familiar with cassette tapes but the technology helped to define early rap albums during the late 1980s and early 1990s. Records had two halves, just as they did on vinyl. "Enter the Wu-Tang" had a different tracklisting in 1993 to what is currently showing on streaming services, as one side of the record would often ease into an intermission or instrumental break. 1987's "Paid in Full" is a concise ten tracks, but at forty-five minutes seems to breeze by.

We have all heard Rakim's vocals scratched into subsequent hip hop tracks throughout the last few decades, and there's an odd, enlightening feeling one gets from hearing a song like 1998's "Tres Leches" before 1987's "I Ain't No Joke". An "Oh shit! That's where that's from!" moment that makes you feel simultaneously smart and dumb. It happens to all of us, particularly in cinema. A similar example for myself is growing up watching Tom & Jerry and not knowing that the "The Bodyguard" episode is a reference to Humphrey Bogart in "To Have and Have Not". The very nature of hip hop gives old classics an extended life. Casablanca may be 80 years old, and who's to say in another 40 years time, artists won't be splicing parts of "Paid in Full" into their music. I hope they are. The fact that a Bogart snippet from 1946's "The Big Sleep" is in "Paid in Full", forty years later, effectively confirms this.
If you've not heard Eric B & Rakim's "Paid in Full", you'll have heard something that has been directly or indirectly lifted from this album. Sure, it may sound a little dated compared to its excellent follow-up, 1988's "Follow the Leader", but "Paid in Full" is simply essential. A classic. Rap's Casablanca. And you know what Sam? I will play it again. Because it's that damn good.

Eric B & Rakim :: Paid in Full